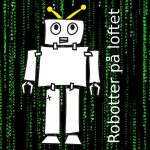 John Varley: "Pusheren".
Pusher?
Pædofil?
John Varley: Farvel, Robinson Crusoe, https://sciencefiction.dk/udgivelser/bog/farvel-robinson-crusoe .
Samuel R. Delany skriver om bl.a. Varley, Proxima 63, https://www.sciencefiction.dk/udgivelser/proxima/proxima-nr-63 .
Er Ian creepy? https://twitter.com/lise_andreasen/status/1450932623879122951 .
Derek Künsken: "Tool Use by the Humans of Danzhai County", https://www.asimovs.com/assets/1/6/ToolUseByHumans_Kunsken.pdf .
Fredric Brown: "Elektritterne".
Twitter: @RobotterPLoftet .
Mail: RobotterPaaLoftet snabela gmail com .
Web: RobotterPaaLoftet.sciencefiction.dk .
Musik: A-Blues, Beat Rock Track (8/12) (https://youtu.be/wjyWBx38gpo).
Teknik: Audacity, Voloco.