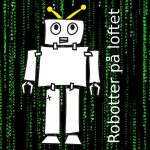 Jakob Drud: "Sandsynlighedskrydstogt".
Jakob Drud, bestseller, Nobel. 😉
Citater.
Robert flirter og flagrer.
Multiverset.
Strapinskov ændrer virkeligheden.
Ændre virkeligheden kontra at blive suget ind i en historie.
De bedste verdener er overrendt af turister. Der er mange, der er næsten lige så gode.
Herskab og tjenestefolk.
Jack Finney: "Bag nyhederne".
Fredric Brown: "The Angelic Angleworm".
Fredric Brown: "Etaoin Shrdlu". https://stuff.ommadawn.dk/2018/04/27/etaoin-shrdlu/ .
Anthony Boucher: "We Print the Truth". http://ommadawn.dk/design2.php?fkt=side&id=1187 .
Larry Niven: The Flight of the Horse.
Larry Niven: "All the Myriad Ways".
Terminator.
Twitter: @RobotterPLoftet .
Mail: RobotterPaaLoftet snabela gmail com .
Web: RobotterPaaLoftet.sciencefiction.dk .
Musik: A-Blues, Beat Rock Track (8/12) (https://youtu.be/wjyWBx38gpo).
Teknik: Audacity, Voloco.