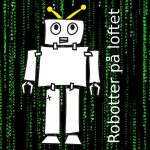 Charles Stross: "Palimpsest".
Tidsrejser.
Tidspoliti.
Multiple tidslinjer.
Johan Ludvig Heiberg: Elverhøj.
H.G. Wells: Tidsmaskinen.
Enrique Gaspar: "El anachronópete".
Back to the Future.
Connie Willis: Blackout/All Clear.
Isaac Asimov: Evigheden er forbi.
Poul Anderson: Tidens vogtere.
Ray Bradbury: "En lyd som torden"/"Lyden af torden"/"Torden-øglen".
Kurt Vonnegut: Sirenerne på Titan.
Audrey Niffenegger: Den tidsrejsendes kvinde.
Sense8.
Simon Christiansen: "Fanget i tiden".
Niels Dalgaard: 'Palimpsest over "Palimpsest"', http://www.ommadawn.dk/design2.php?fkt=side&id=1238 .
Twitter: @RobotterPLoftet .
Mail: RobotterPaaLoftet snabela gmail com .
Web: RobotterPaaLoftet.sciencefiction.dk .
Musik: A-Blues, Beat Rock Track (8/12) (https://youtu.be/wjyWBx38gpo).
Teknik: Audacity, Voloco.