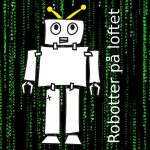 Jesper Rugård Jensen: "En tur i parken".
Parforhold.
Ændre personlighed.
Aldous Huxley: Fagre nye verden.
Eileen Gunn: "Stable Strategies for Middle Management".
Franz Kafka: Forvandlingen.
The Orville, "From Unknown Graves".
Luis Senarens.
Sam Moskowitz: Explorers of the Infinite: Shapers of Science Fiction.
Arthur B. Evans.
Hugo Gernsback: "An American Jules Verne", https://manifold.umn.edu/read/the-perversity-of-things-hugo-gernsback-on-media-tinkering-and-scientifiction/section/f0e7541d-fc7b-4f12-910d-2a6ad3fc30bd .
Twitter: @RobotterPLoftet .
Mail: RobotterPaaLoftet snabela gmail com .
Web: RobotterPaaLoftet.sciencefiction.dk .
Musik: A-Blues, Beat Rock Track (8/12) (https://youtu.be/wjyWBx38gpo).
Teknik: Audacity, Voloco.