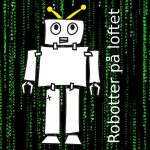 Marie Bachmann Pedersen: "Hver for sig".
Kloning.
Skilsmisse.
Sanseligt. Pandekager.
Gradvis afsløring.
Bjarne Reuter: Den dobbelte mand, En tro kopi.
Svend Åge Madsen: Genspejlet.
Kazuo Ishiguro: Never Let Me Go.
Lois McMaster Bujold: Miles Vorkosigan-sagaen.
Living With Yourself.
John Varley: "Overdrawn at the Memory Bank".
James Patrick Kelly: "Think Like a Dinosaur".
Star Trek.
Lise Bidstrup: Idolernes by.
Valdemar Holst: Manden der tænkte ting.
William Sleator: Kun en kopi!
Filmatiserede historier af Philip K Dick. "Minority Report", "Total Recall", "Little Black Box".
EKSTRA: Multiplicity.
Twitter: @RobotterPLoftet .
Mail: RobotterPaaLoftet snabela gmail com .
Web: RobotterPaaLoftet.sciencefiction.dk .
Musik: A-Blues, Beat Rock Track (8/12) (https://youtu.be/wjyWBx38gpo).
Teknik: Audacity, Voloco.