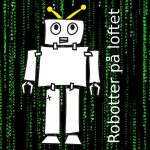 Lars Ahn: "Månebase Rødhætte". ( https://sciencefiction.dk/udgivelser/bog/manebase-rodhaette ).
Weird.
Ulv, diverse sludder om varulve og vampyrer.
Peter, Pedro.
Første sætning, sprog.
Fantasticon ( http://fantasticon.dk/ )
Lars Ahn: "Alien Ghost Ballet".
The Mitchells vs the Machines.
Octavia Butler: "Bloodchild".
Twitter: @RobotterPLoftet .
Mail: RobotterPaaLoftet snabela gmail com .
Web: RobotterPaaLoftet.sciencefiction.dk .
Musik: A-Blues, Beat Rock Track (8/12) (https://youtu.be/wjyWBx38gpo)
Teknik: Audacity, Voloco.