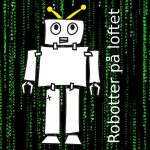 Gene Wolfe: "Mars' skjolde".
Karakteristik af Mars.
Kolonien lukker, måske.
Den amerikanske frihedskrig.
Venskab på tværs af arter.
Edgar Rice Burroughs: A Princess of Mars (https://www.gutenberg.org/ebooks/62).
Ray Bradbury: Chronicles of Mars.
Kim Stanley Robinson: Mars-trilogi.
Isaac Asimov: "The Martian Way".
Allen M. Steele: Coyote.
Hugh Howey: Blår, Skift, Støv.
Twitter: @RobotterPLoftet .
Mail: RobotterPaaLoftet snabela gmail com .
Web: RobotterPaaLoftet.sciencefiction.dk .
Musik: A-Blues, Beat Rock Track (8/12) (https://youtu.be/wjyWBx38gpo)
Teknik: Audacity, Voloco.